All About The Willow Wild Cemetery Association, Inc.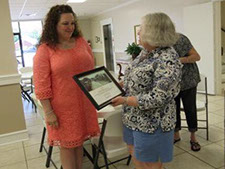 Willow Wild Cemetery Association, Inc. was incorporated as a Texas non-profit organization in the fall of 2012 and is a nonprofit, tax-exempt organization under Section 501(c)(13) of the IRS Code. The association is governed by a five-member Board of Directors who are elected at an annual business meeting for staggered terms of three years.
Membership, according to its bylaws, is open to "owners of burial plots in the cemetery, adult family members of individuals buried in the cemetery, and all other adult persons of the age of 18 years or more who are interested in Willow Wild and have signed the membership roll."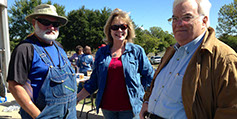 Its Mission, which is a continuation of the same ethos of cooperation and hard work that enabled Bonham's earliest residents to survive and flourish, is to provide leadership, representative of those it serves, for the preservation and maintenance of Willow Wild.
The original 40 acres along Powder Creek were purchased with funds donated by John Simpson, a prominent figure in Bonham's past whose burial site is near the front gate. Today the cemetery stretches across 90 acres of rolling blackland prairie, home to over 10,000 graves. During the Civil War, this plot of land stood use as a military outpost. The scant forces positioned here were tasked with patrolling 600 miles along the Red River and the surrounding frontier.
Sam Rayburn, Speaker of the U.S. House of Representatives for 17 years, is the most famous historical figure to be buried at Willow Wild. Four Presidents stood at his grave during his funeral in 1961. One hundred members of Congress attended his services at The First Baptist Church of Bonham.

"It reminds the families that they are part of a specific cemetery with a definite tradition." So says Cindy Baker Burnett, a former Association President, in a piece she wrote in 2013 about Willow Wild's first annual homecoming event, Dinner on the Ground. "In short, we sit down, we eat lunch, and we interact as members of a family." And what is Willow Wild, if not a large and a very endearing, yet very concerned, family of friends.
Contact us with any questions or concerns. You may reach us at 903-583-3437.